The Darling of Kandahar (EN reviews)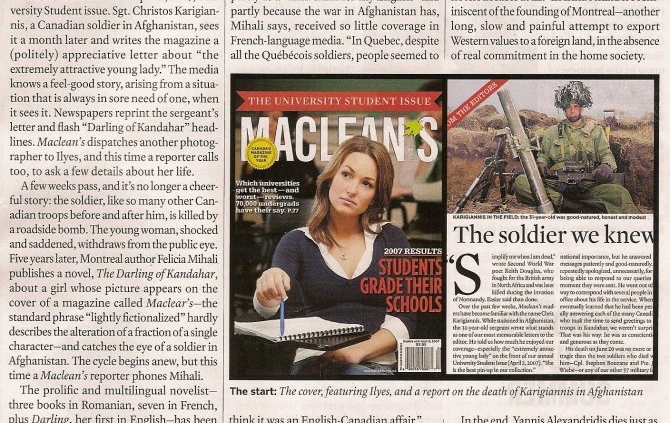 A young woman poses for the cover of a magazine. A Canadian soldier serving in Kandahar falls in love with her photograph and sends her an email message. « The darling of Kandahar » is the tale of love, loss, and displacement against the background of the war in Afghanistan.
Available now from Linda Leith Publishing
What The Gazette said about The Darling of Kandahar
Mihali's novel is a rambling first-person narrative that follows Irina, a young Montreal woman of mixed Greek and Romanian descent. Irina doesn't hold back in commenting about her divorced parents, or her relationships at school, university and at work. She becomes the object of infatuation of a Canadian soldier in Afghanistan who saw her sexy photo in a newsmagazine (this part was inspired by a true story in Maclean's). Mihali's English prose is expository rather than poetic, but she is sensitive to the incidents that form human feelings and relations.
Victor Swoboda (The Gazette, April 14, 2012)
3…2…1…Launch
« Linda Leith launches publishing house at the Blue Met »
……Having said all that, it should also be said that the books are great. Salutin's essay should spark some interesting discussions about what works and what doesn't in public education (his answer is that almost anything will work), and Mihali's novel is gorgeous and topical, inspired by a real-life event. I have a feeling Linda Leith will be publishing for a long time to come, churning out slim novellas and essays that are socially relevant and also formally unique.
Mike Lake (Rover 2012: Spring Issue, No. 15)
http://www.feliciamihali.com/wp-content/uploads/2023/05/the-Darling-of-Kandahar.jpeg
960
670
admin
http://www.feliciamihali.com/wp-content/uploads/2023/04/Felicia2-01.png
admin
2023-04-30 21:30:15
2023-05-05 17:34:50
The Darling of Kandahar (EN reviews)